Courtesy : http://patimes.org/mpa-programs-build-town-gowns/
The views expressed are those of the author and do not necessarily reflect the views of ASPA as an organization.
By William Hatcher
November 10, 2015
Colleges and universities are key economic, social and political assets for communities. The relationship between communities and institutions of higher learning, what has been termed town and gown, is vital to local public administration. However, many communities struggle to build and maintain effective town-and-gown partnerships.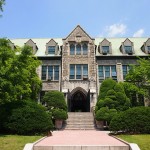 Previously, I have discussed the reasons why town-and-gown partnerships are difficult to sustain.
Conflicts arising due to taxation issues, land-use decisions and traffic congestion are just a few reasons. In the area of economic development, local communities often do not partner with their colleges or universities, which in many areas are the largest employers.
In a recent ICMA survey of local economic developers,
a majority of communities reported having a college or university in their jurisdiction. However, only 25 percent of the communities claimed to have a partnership with an institution of higher learning. This shocking percentage needs to be changed for local governance.
Public administration should be concerned with fostering strong town and gowns because the partnerships have the potential to strengthen the local economy and administrative decisions. Members of the local college or university can offer their expertise to local economic and political decisions, which can mean policy will be based more on evidence. By helping communities make sound administrative decisions, town-and-gown relationships build local policy capacity. Given this, public administration as a field should help foster effective town-and-gown partnerships.
Master of public administration (MPA) programs are well-suited to take a leading role in helping cultivate town and gowns in our communities. They have expertise from their faculty and can also access students, who can be incorporated into meaningful service learning projects in the community.
MPA faculty can offer local communities a wealth of administrative expertise. First, faculty members can build local capacity and strengthen town-and-gown partnerships by conducting meaningful applied research for local communities.
Faculty and students can help communities construct effective local budgets by offering training seminars to officials and citizens.
Faculty and students can help communities construct performance measures and implement those strategies.
Faculty and students can help communities conduct comprehensive planning by coordinating public participation meetings that build a local vision for development.
Finally, MPA faculty can serve as formal and informal advisors to local officials. By being "go to" advisors, MPA faculty can help build the reputation of their programs in the community, which in turn helps students obtain internships and employment.
In other words, MPA programs can help strengthen town-and-gown relationships by helping build local administrative capacity by linking their institutions with the organizations in the community, in particular local governments and nonprofits.
Organizations outside the community can also help build local town-and-gown partnerships. In these cases, MPA programs can play a role by working with regional and national associations to promote town-and-gown relationships. For instance, the International Town & Gown Association (ITGA) has helped local governments realize the importance of collaborating with institutions of higher learning.
Here are a few examples:
The City of Fairfax, Va., and George Mason University are working together to build a sustainable downtown.
The City of Greensboro, S.C., is working with its local colleges and universities to draft effective transportation policies.
Lastly, many communities and universities are partnering to address the problem of binge drinking on college campuses.
The literature on public administration has paid little attention to the topic of town and gowns. Nevertheless, as discussed, there is a wealth of literature on how to build local administrative capacity. We need to use this knowledge to help our local communities and universities build closer ties.
By doing so, we help strengthen local capacity. We serve our students. We demonstrate our worth to not just our home institutions but also our local communities.
---
Author: William Hatcher, Ph.D. is an associate professor and director of the Master of Public Administration program at Georgia Regents University (soon to be renamed Augusta University).
He can be reached atwihatcher@gru.edu.
(His opinions are his own and do not necessarily represent those of his employer.)
Courtesy : http://patimes.org/mpa-programs-build-town-gowns/